High school students (and their guests) who are interested in learning about undergraduate degree programs in the College of Sciences at Georgia Tech are encouraged to attend an "It's all about Science and Math" in-person open house.  Visitors will learn about opportunities in the degree programs listed below, attend a science and math class, receive information about admission requirements and financial aid, and have lunch with current students and faculty.  Prospective students with an offer of admission are encouraged to attend the in-person EXPLORE open house program described below.
If you are unable to visit in-person, we encourage you to attend one of our live College of Sciences Prospective Student virtual webinars, typically held on Wednesdays from 7-8pm ET. This webinar includes an overview of Georgia Tech science and math undergraduate programs and Q&A with current students.
To schedule a class or group visit, please contact Dr. Cameron Tyson (contact information below).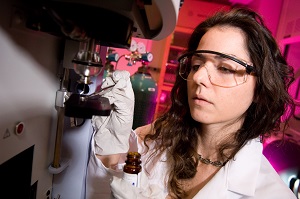 Register to Visit! (click on link and select "It's All About Science and Math")
Degree programs
Questions? Contact: Dr. Cameron Tyson, Assistant Dean, College of Sciences or 404-385-0418.
Especially for Admitted Students: Students with an offer of admission to a GT science or math degree program are encouraged to attend one of the College of Sciences EXPLORE! visitation weekends in mid-February or early-April. Invitations to EXPLORE! will be sent via email once offers of admission are made. More information, please visit the GT College of Sciences EXPLORE! Science and Math website.