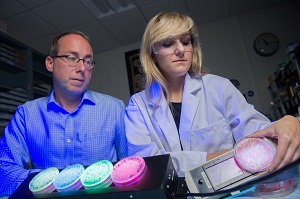 Revolutionary developments in biology are creating new approaches to solving biomedical and environmental problems. The School of Biological Sciences at Georgia Tech conducts exceptional research at the leading edge of biology and provides high quality, innovative education for our undergraduates. Our curriculum provides a broad foundation in modern biological sciences while offering opportunities for students to develop focused studies in biomedicine, biotechnology, bioinformatics, environmental science, marine science, chemical biology, and bio-inspired design.
Our graduates have core content knowledge in Genetics, Ecology, Evolution, and Cell & Molecular Biology, as well as quantitative training to address biological problems from a mathematical & statistical perspective. Our degree program includes core science knowledge including calculus, physics, chemistry, and computer science. The Biology program is designed to achieve learning goals for our students that provide quantitative and analytical skills, independent research skills in state-of-the-art laboratory science, experience working on collaborative teams, critical thinking using scientific methodology, and excellent oral and written communication skills.
Every student engages in an independent research project mentored by one or more of our 40 faculty. The school is also home to a chapter of Beta Beta Beta National Biology Honor Society, an award winning chapter of the American Medical Students Association, and the Society of BioDiversity, an organization dedicated to the support of under-represented minorities in the sciences and engineering fields.
Approximately one-third of biology graduates continue on to medical school or other health-related professional programs such as dentistry or pharmacy; another third attend graduate school in the biosciences. The remaining third obtain jobs in teaching, government, or industry in areas such as biomedical research, forensics, environmental testing and consulting, or pharmaceuticals.
For more information, please see www.biology.gatech.edu, or contact the School's Undergraduate Advisor, Dr. Shana Kerr (shana.kerr@biology.gatech.edu).
Additional information: Undergraduate Research Opportunities, International/Study Abroad Opportunities, Careers